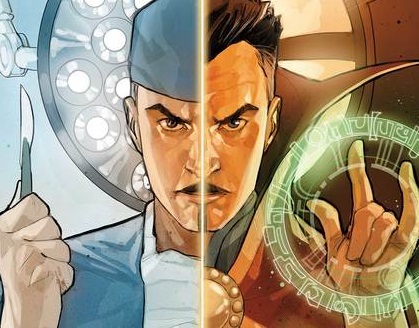 Metro Entertainment will be open regular hours: Gaming tournaments will be limted and curbside/delivery service will be available upon request. For up to date information on the store during the novel coronavirus outbreak, please see our Facebook page. For up to date information on public health and what you can do to stop the spread of COVID-19, please see the CDC website.
IN THIS WEDNESDAY!

FANTASTIC FOUR MARVELS SNAPSHOT #1


Written by EVAN DORKIN, SARAH DYER; ART BY BENJAMIN DEWEY; Covers by ALEX ROSS, BENJAMIN DEWEY


Our tour through Marvel history continues, showcasing Marvel's greatest characters from the Golden Age to today, all through the eyes of ordinary people! This time, writers Evan Dorkin & Sarah Dyer (Beasts of Burden, Space Ghost: Coast to Coast, Superman: The Animated Series) and artist Benjamin Dewey (The Autumnlands, Beasts of Burden) tell the tale of the ten-year high-school reunion of the Fantastic Four's own Human Torch. His hometown of Glenville, Long Island is going wild, and we see it all through the eyes of the Torch's ex-girlfriend Dorrie Evans and reporter Marcia Hardesty - the preparations, the Torch's long history in town, the festivities and more. But there's a strange distance between Johnny Storm and his old schoolmates, one Dorrie knows all too well and Marcia is determined to get to the bottom of. Featuring ex-villains, strange souvenirs, a weenie roast on the beach and, of course, the hulking Inhuman hound known as Lockjaw! Don't miss the festivities!